The most honorable role that I could have is to teach others to be useful for good and beautiful things to society. That means I spread my ideas: to think deeper about injustice or how to increase chances for making good changes in society. Or just how to make someone laugh. I am happy to have an opportunity to show others different ways to art. I am even double happy when others are open for learning.
Workshop with schoolgirls with an aim to observe world around themselves meaningful and to recognize possible plots for theater scenes in ordinary life. Basic story-telling techniques as well as acting classes.
Köln, 2019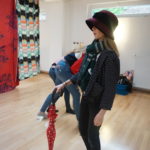 Workshop with teenagers and adults with an aim to write music songs inspired by William S. Burroughs – Beat generation poet, who wrote his poetry in "cut-up technique". This technique was favorite technique among many rock and pop artists – David Bowie, as well.
Berlin, 2020.
"Culture and school" is project from Cultural Ministerium of Nordrhein Westfalen, NRW, which is gathering artists from different art fields in order to introduce art closer to school children. My project "Who cares" was implemented in Leibniz Gymnasium in Dormagen, with Theatre group of that school. Because of corona circumstances we switched form stage to video performance, where schoolchildren had opportunity to learn that flexibility is also important process in theater.
Dormagen, school year 2020/2021